Two Norwegian psychologists, Kaja Johanessen and Ann-Karin Nielsen Bakken from the Østbytunet Children's Psychiatric Center, were finally able to come to visit us in early September after several postponement due to a coronavirus pandemic. We have been cooperating with both of them for a long time and were in mutual close contact during a two-year training on working with children with demanding behavior. During that time, we have visited the Norwegian training center.
The aim of their visit was mainly two events – a final two-day training for participants and a public seminar for students of the Faculty of Education in Prague, teachers and others interested in working with children with demanding behavior.
Final two-day training meeting
The participants of the training were already very much looking forward to a personal meeting with the lecturers. The subject of the final block was, among other things, the practice of de-escalation techniques that can be used in contact with a disturbed child. This part of the training was based on modeling different situations and personal experiences of the participants. They had the opportunity to try, for example, appropriate procedures for approaching a child and interrupting the ongoing conflict between children at the school desk. At the end of the two-day meeting, we jointly planned the next steps in the project – especially how and where the newly created educational program for teachers focused on working with children with demanding behavior will be piloted.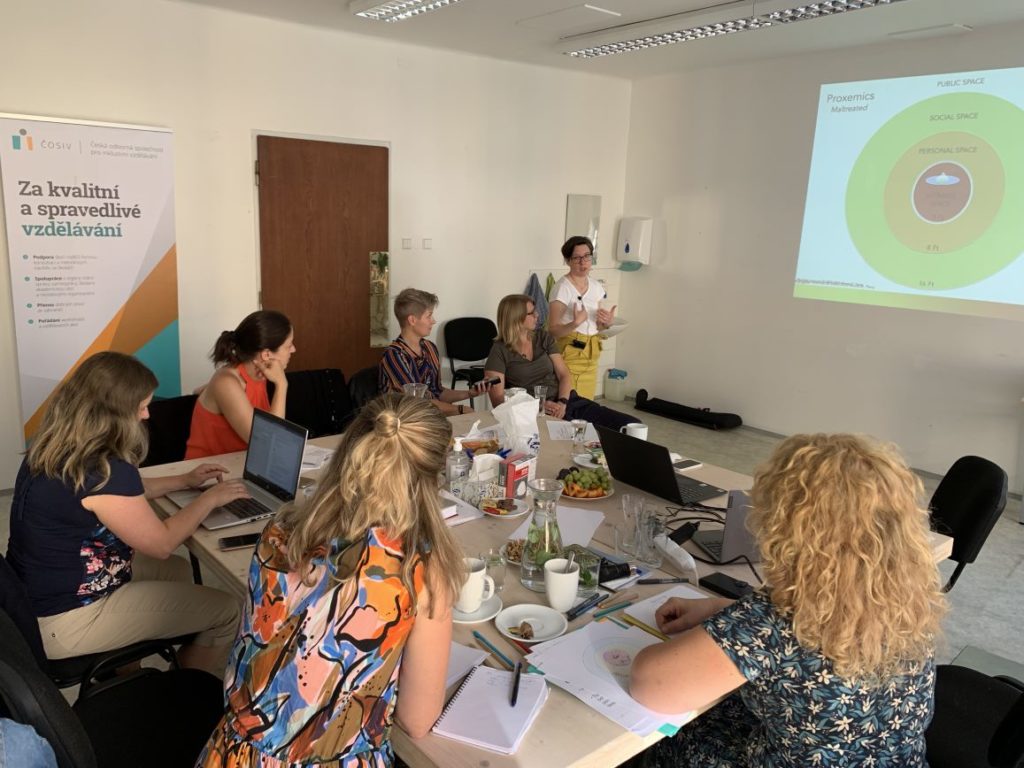 Public seminar at the Faculty of Education
The public seminar was intended not only for students of the faculty, but also for all pedagogical staff and social workers working with children and their families. The two-hour seminar was led by Ann-Karin Nielsen Bakken. Among other things, she introduced various de-escalation and regulation techniques that social and pedagogical staff can use to calm down in classrooms and other places where they work with children.
During the seminar, the lecturer presented examples of two children with traumatic negative experiences. One of them manifested itself more externalized (disturbing, it was aggressive), the other internalized (it seemed calm, but did not concentrate and lost contact with the environment). She then described how these children manifest themselves in five phases of stress activation: Calm – Vigilance – Anxiety – Fear – Fright.
In the end, they practically showed how to approach an upset child and how to calm him down using various de-escalation techniques. There was a lot of interest in the seminar, it was attended by several dozen students. After the presentation, a few questions followed.
If you were unable to attend this seminar, you can watch a video here:
We are very happy that, in addition to the training time, we managed to meet both Norwegian colleagues less formally. On Wednesday evening, we went for a short walk around Prague with them and ended it with a dinner together. Meetings and conversations with them are always very inspiring and beneficial for us. So we were very happy that there was room for them in their busy two-day program. In addition to meeting us, Kaja and Ann-Karin also met two journalists here. You will soon be able to read interviews with them in two Czech media. We will then definitely introduce you both here on our website and on social networks.
Both seminars were organized within the project Working with Children with Problem Behavior in the School Environment, funded by EEA Funds 2014-2021. We thank the House of Foreign Cooperation – DZS for their support.